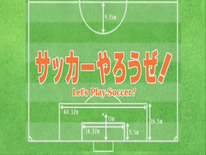 Let's Play Soccer! (サッカーやろうぜ!, Sakkā yarou ze!) (Let's Play Football! in the dub) is the 1st episode of the Inazuma Eleven anime.
Mamoru Endō is the captain of the Raimon Junior High's long-neglected soccer club. At that time, it only had seven members and most of them weren't practicing at all and were doing other things like playing on their DS or with cards. Endō tried to persuade them to practice, but they countered by saying that they didn't have a field to practice in. The captain then went to the field and asked the people there, but it was the same answer as before...a no.
The situation takes a turn when Endō got called to the principal office. He was then told that if the soccer club does not get 11 players, they would disband the club. Of course he didn't want that to happen. Following that event, Endō went around the school inviting others to join the team. He was able to get Kazemaru,from the athletics team, Max,who entered while seeing Endourecruiting, Kageno, who entered for people to see him, and Megane to join...even though Megane has no athletic talents and wants to be the ace striker. In the middle of trying to recruit some new members, it is shown that Endō was playing with some kids when a bunch of punks came in and mock them about playing soccer. One of them kicked the ball so hard that Endō wasn't able to catch it and it was headed straight for a small girl. Suddenly a mysterious boy kicked the soccer ball right at their face and retreated. Endō commented how powerful the shot was and asked if he could join the Raimon team. But the boy ignores him and leaves.
Captain's Proverb
Edit
Don't give up without even trying!